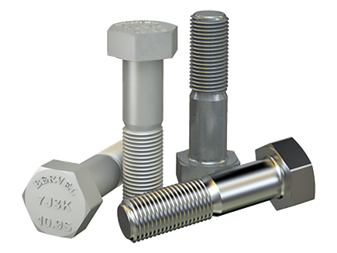 DIN 931 - ISO 4014
[ AREAS-705 ]
Hexagon Bolts (DIN 931/ISO 4014)
Hexagon Bolts are created to DIN 931, and are a partially threaded fastener with a hexagon-shaped head that is usually fixed with a spanner or socket tool.
Hosting a machine thread, these bolts are suitable for use with either a nut or within a pre-tapped hole.
Materials can include various grades of steel, including Grade 5 (5.6), Grade 8 (8.8), Grade 10 (10.9) and Grade 12 (12.9) with zinc plating, zinc and yellow, galvanising or self colour. They are also available in A2 and A4 stainless steel, with other materials available to order.
As standard, they are available in sizes from M3 to M64, with non-standard sizes and threads – such as UNC, UNF, BSW and BSF – all possible to order.
Please contact us with your requirements to further your enquiry.
Hexagon Bolt (Din 931) – Technical Information

Thread Diameter

Pitch (mm)

s

k (min)

b (L < 125mm)

b (max) (L > 125mm)

b (max) (L > 200mm)

Available Lengths

M3

0.50




5.5




2.0




12.0




–

–

5mm to 50mm




M4

0.70

7.0




2.8




14.0

–

–




6mm to 70mm




M5

0.80

8.0




3.5




16.0

22.0

–

6mm to 100mm




M6

1.00

10.0




4.0




18.0

24.0

–




6mm to 200mm




M7

1.00

11.0




4.8




20.0

26.0

–




12mm to 60mm




M8

1.25

13.0




5.3




22.0

28.0

–




8mm to 300mm




M10

1.50

17.0




6.4




26.0

32.0

45.0




10mm to 500mm




M12

1.75

19.0




7.5




30.0

36.0

49.0




12mm to 600mm




M14

2.00

22.0




8.8

34.0

40.0

53.0




16mm to 300mm




M16

2.00

24.0




10.0




38.0

44.0

57.0




16mm to 1000mm




M18

2.50

27.0




11.5




42.0

48.0

61.0




25mm to 320mm




M20

2.50

30.0




12.5




46.0

52.0

65.0

25mm to 1000mm




M22

2.50

34.0




14.0




50.0

56.0

69.0




40mm to 1000mm




M24

3.00

36.0




15.0




54.0

60.0

73.0




30mm to 1000mm




M27

3.00

41.0




17.0




60.0

66.0

79.0




40mm to 1000mm




M30

3.50

46.0




18.7




66.0

72.0

85.0




40mm to 1500mm




M33

3.50

50.0




21.0




72.0

78.0

91.0




60mm to 1000mm




M36

4.00

55.0




22.5




78.0

84.0

97.0

50mm to 1500mm

M39

4.00

60.0




25.0




84.0

90.0

103.0




110mm to 600mm




M42

4.50

65.0




26.0




90.0

96.0

109.0




70mm to 600mm




M45

4.50

70.0




28.0




96.0

102.0

115.0




120mm to 600mm




M48

5.00

75.0




30.0




102.0

108.0

121.0




140mm to 600mm




M52

5.00

80.0




33.0




–

116.0

129.0




160mm to 600mm




M56

5.50

85.0




35.0




–

124.0

137.0




160mm to 600mm




M60

5.50

90.0




38.0




–

132.0

145.0




160mm to 600mm



CÔNG TY TRÁCH NHIỆM HỮU HẠN ĐỨC KHANH
MST: 3500765411 (Do Sở KHĐT Tỉnh Bà Rịa - Vũng Tàu cấp ngày: 25/09/2006) - ĐDP: Phùng Công Đức
Chính sách bảo mật thông tin
(Click xem tại đây)
- Chính sách và Quy định chung
(Click xem tại đây)