FOUNDATION BOLTS
FOUNDATION BOLTS
[ AREAS-708 ]
Foundation Bolts for Wind Mills
Foundation bolts for wind mills are used in pre-engineered wind turbine foundations and construction.These Foundation Bolts are available in different variety & of types including Full threaded & partial threaded.
Popular grades include MS, 8.8, 10.9, 12.9, SS316, SS304, SS316L, B7, B8, L7, L7M, etc. The Dimensionas per customer requirements.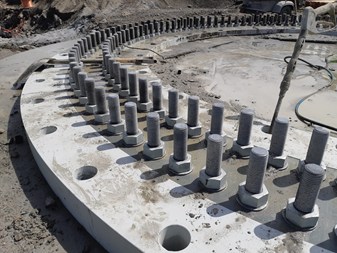 Mechanical properties of fasteners madeof carbon steel and alloy steel 10.9
The ISO 898-1:2013 Grade 10.9 specification covers carbon steel bolts and studs ranging from M-6 to M-64 diameter. We use high carbon steel material and high alloy steel raw materials to achieve the required properties of grade 10.9. There are three popular grades in this standard, 8.8, 10.9 and 12.9 which denote material hardness strength and their respective mechanical properties.
ISO 898-1:2013 Grade 10.9
| | | |
| --- | --- | --- |
| 10.9 | | Hex bolts, screws, stud bolts, double ended studs, Stud for foundation, wind energy bolts, Fasteners for wind turbines |
ISO 898-1:2013 grade 10.9 Chemical properties
Property class

Material and heat treatment

Chemical composition limit (cast analysis, %)a

Tempering temperature ⁰C

Min.

C

P

S

Bb

min.

max.

max.

max.

max.

10.9

Carbon steel with additives (e.g. Boron or Mn or Cr) quenched and tempered

0,20e

0,55

0,025

0,025

0,003

425

Carbon steel quenched and tempered

0,25

0,55

0,025

0,025

Alloy steel quenched and temperedg

0,20

0,55

0,025

0,025
ISO 898-1:2013 grade 10.9 Mechanical properties
Mechanical or physical property

Tensile strength, Rm, MPa

Stress at 0,2 % non-proportional elongation, Rp0,2, MPa

Stress under proof load, Spf, MPa

Proof strength ratio

Sp,nom/ReL,min

Percentage elongation after fracture for machined test pieces, A, %

Percentage reduction of area after fracture for machined test pieces, Z, %

Height of non-decarburized thread zone, E, mm

Depth of complete decarburization in the thread, G, mm

Reduction of hardness after retempering, HV

Impact strength, KVij, J

nom.c

min.

nom.c

min.

nom.

min

min.

min.

min.

max.

max.

min.

10.9

1000

1040

900

940

830

0,88

9

48

2/3 H1

0,017

22

27
ISO 898-1:2013 grade 10.9 Recommended hardness
Mechanical or physical property

Vickers hardness,

HV F ≥98 N

Brinell hardness, HBW F = 30 D2

Rockwell hardness, HRC

Surface hardness, HV 0,3

min.

max.

min.

max.

min.

max.

max.

10.9

320

380

316

375

32

39

390
CÔNG TY TRÁCH NHIỆM HỮU HẠN ĐỨC KHANH