Low voltage BFOU, RFOU_ CÁP CHỐNG CHÁY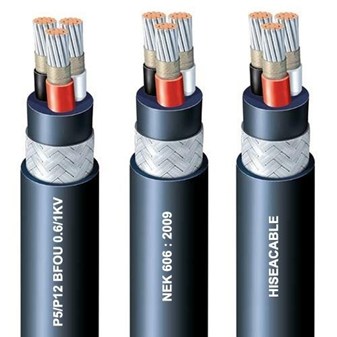 Low voltage BFOU, RFOU_ CÁP CHỐNG CHÁY
[ AREAS-383 ]
Our BFOU (flame resistant) and RFOU (flame retardant) power and instrumentation cables are manufactured in accordance with the specifications ofstandard NEK606.
NEK606 standard is for applications in themarine industryandoil & gas industryrequiring flame-retardant or flame-resistant and halogen-free properties where life may be endangered by noxious fumes, and where sensitive equipment may be damaged by acid forming gases in the event of fire.
BFOU and RFOU cables are designed for fixed onshore and offshore installations in a marine environment with a temperature operating range of -40oC to +90oC.
More information
Power cables
BFOU Cable - 0.6/1kV

RFOU Cable - 0.6/1kV
Power supply to electromechanical and electrical equipment, including emergency and critical systems such as lighting systems
Instrumentation cables
BFOU(i) S3/S7 Cable - 150/250V

RFOU(i) S1/S5 Cable - 150/250V
Individually screened instrumentation and telecommunication cable for fixed installation
BFOU(c) S4/S8 Cable - 150/250V

RFOU(c) S2/S6

Cable - 150/250V
Collectively screened instrumentation and telecommunication cable for fixed installation
BFOU and RFOU instrumentation cables have excellent screening properties, reducing electromagnetic interference (EMI), and are available as collectively or individually screened for optimum EMI protection. Their tinned copper wire braid (TCWB) acts as a drain wire for any leaked current.
MUD RESISTANT CABLE
BFOU and RFOU are both MUD resistant cable - resistant to the hydrocarbons and drilling oils - which is essential in order to withstand the demanding marine environment. The Ethylene Vinyl Acetate sheathing being rated SFH2 (thermostable halogen free) as required of NEK606.
BFOU cable construction: MGT/EPR/EPR/TCWB/EVA
RFOU cable construction: EPR/EPR/TCWB/EVA

Eland Cables' BFOU and RFOU cables are Lloyds Register approved, as well as Det Norske Veritas (DNV) and the American Bureau of Shipping (ABS). Whether you're looking for a specialist marine 1kV power cable or 250v instrumentation cable, contact our experts in The Cable Lab to help assist you with choosing the correct cable for your application.


Construction Table


BFOU 0.6/1KV POWER...


RFOU 0.6/1KV POWER...


BFOU(I) 150/250V...


RFOU(I) 150/250V...


BFOU(C) NEK 606 S4/S8...


RFOU(C) 150/250V...

VOLTAGE

0.6/1kV

150/250V

CONDUCTOR

Class 2 Stranded Tinned Copper

TAPE

Mica Glass

-

Mica Glass

-

Mica Glass

-

INSULATION

Halogen Free EPR (Ethylene Propylene Rubber)

DRAIN WIRE

-

Stranded Tinned Copper

INDIVIDUAL SCREEN

-

Copper Polyester Tape

-

COLLECTIVE SCREEN

-

Copper Backed Polyester Tape

BEDDING

Halogen Free Compound

SCREEN

TCWB (Tinned Copper Wire Braid)

OUTER SHEATH

SHF2, MUD (Halogen Free, Mud Resistant)

SHF, MUD (Halogen Free, Mud Resistant)
CÔNG TY TRÁCH NHIỆM HỮU HẠN ĐỨC KHANH
MST: 3500765411 (Do Sở KHĐT Tỉnh Bà Rịa - Vũng Tàu cấp ngày: 25/09/2006) - ĐDP: Phùng Công Đức
Chính sách bảo mật thông tin
(Click xem tại đây)
- Chính sách và Quy định chung
(Click xem tại đây)